Most brides have their dream wedding planned in their mind as soon as the proposal happens. The bride envisions herself walking down the aisle, all eyes on her, looking so wonderful in her dress.
Looking so perfect the way you want on your wedding is not quite so simple. Wedding dresses comes from different sizes, shapes, color, style. There are literally thousands out there to choose from. With all the choices you have, wedding dresses range from a few hundred dollars to many of thousands of dollars. They do not come cheap!
Just like any other bride, Laina had a budget for her dream dress. She tried on a couple of them, but the one she picked is way more than her budget. She ended up buying the one that is not really what she wanted "looks wise", but still on her budget.
On my first conversation with Laina, she asked me how much it will cost if I make a couple of changes to her dress that she bought that fits her budget.
On this alteration project, Laina asked me to incorporate beaded applique from her mother's wedding dress, "Something old and something borrowed" she said. We added 4 more layers of the crinoline skirt, then changed the belt to more of her style, changed the zipper on the bodice area to pulled sting almost like corset look and added beaded straps. We then added a three-point bustle. A total make over! Our bride is so much happier without breaking her wedding dress budget.
This is how the dress look like before alteration.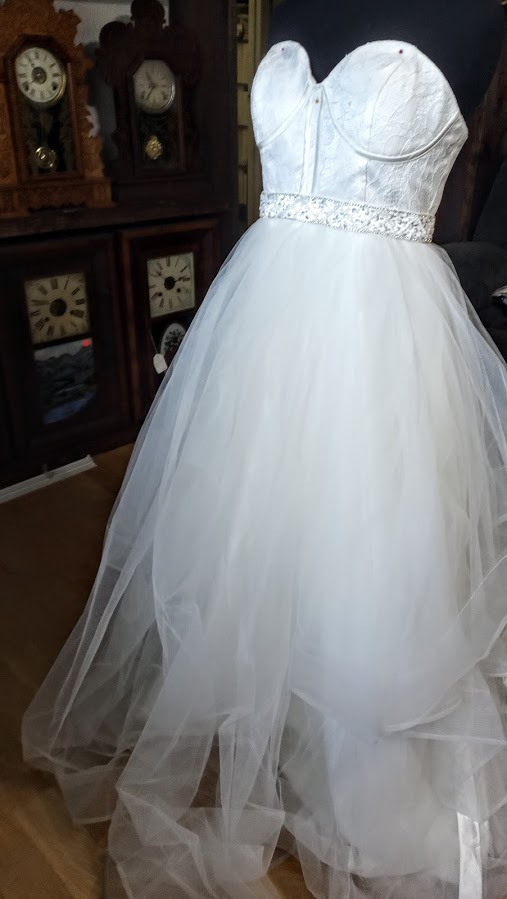 After alteration.